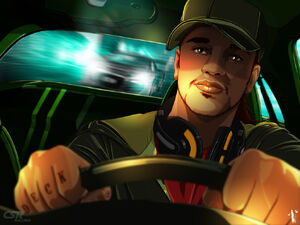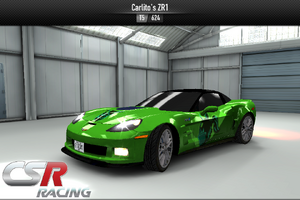 Carlito is the leader of the Tier 4 crew, the War Pigs. He and his crew control the city district to the east of the East Bay, called "Las Colinas". He also runs a club, where he and his crew members work.
After Alieda's defeat, Carlito calls to tease her, unusual considering most of the calls are started by the defeated crew leader. After a heated debate, Carlito refers to her as "Condessa" and reminds her that he knows her secret, a theme which carried over into CSR Classics.
Unlike other crew leaders, Carlito is nowhere near as patronizing as the others, and will even congratulate the player's success against certain crew members. However, he also likes to tease the player on their failures instead of patronize them. He is by far the warmest of the crew leaders and the bosses to the player.
Carlito drives a Chevrolet Corvette ZR1. It is the worst vehicle in tier 4, measuring out at 624 power ranking. This allows a high power ranking vehicle to easily defeat him in the high stakes challenge, such as the Bentley Continental Supersports or the Alfa Romeo TZ3 Stradale. However, a poor tier 4 vehicle like the Ford GT or the Audi R8 Coupé 5.2 FSI quattro will require a Mechanic's help to win the high stakes challenge. Vehicles like the Jaguar XKR-S and the SRT Viper GTS may or may not needed the Mechanic's assistance to defeat Carlito in the High Stakes Challenge.
After losing to the player, Carlito will call Errol to warn him. Unique to Carlito is that he will mention exactly what vehicle the player used to defeat him to Errol. However, Errol flat out refuses to consider the player as a threat, thinking of Carlito and his crew as a joke, and reminding Carlito that Nitro was dead before Errol even started racing, which Nitro reminded Carlito the player of.